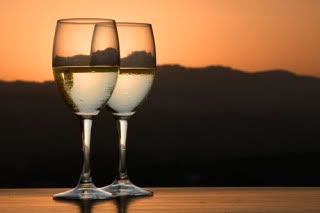 The fella and I had a very European evening last night.
We got a nice, fresh loaf of French bread, a chilled bottle of lovely, locally made white wine, a bowl of black olives, a tasty brick of pungent, Parmesan-like cheese, some soppressata and a little cheese tortellini with meat sauce.
It was a truly lovely meal, and another great date night.
Even though I wish we were both wearing berets.
{Though that didn't stop me from saying repeatedly my few known phrases from French 101 ... }