I long for fall.
I always do - it's my favorite time of year, especially because I absolutely
loathe
these humid temperatures. I loved the summer weather - or lack thereof - we've had (minus all the monsoon rains of course).
One of the main reasons I'm jonesing for fall isn't just because I look forward to snuggling under a mountain of covers with my windows open as the temperature drops, but because I miss my favorite morning ritual: using my tea kettle.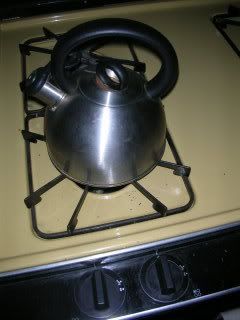 It looks so forlorn and lonely unused on my retro-colored yellow stove that it kind of breaks my heart. There's just something so calming, so British, so Zen about that kettle whistling for me when I get out of the shower and the first sip of a good strong green tea.
Soon, soon.
(But not soon enough for me.)