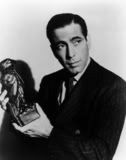 I saw my very first Humphrey Bogart movie tonight.
Being a classic movie buff, I've always known he was one of the rare breeds, up there with Cary Grant, my beloved Steve McQueen, Paul Newman.
An actor who melts into each character, so it doesn't appear he's acting, and makes you root for him, no matter what kind of dirty deeds he gets into.
Bogart as Sam Spade in "The Maltese Falcon" was just that.
This black and white gem was exquisite.
Not only does it take place in one of my favorite cities on earth (San Francisco), but it was non-stop suspense right to the very last second when he utters that line that is now legendary - and a pretty commonplace phrase:
"It's the stuff dreams are made of."
I love when actors, especially in classic, noir-type films such as this, smoke.
Now, I don't miss smoking - I quit in January 2008 - at all when I'm having a few drinks. I miss it only when I'm watching people in movies smoke. The way the smoke curls around them like it's an extra. How it's used as a prop. God, it's sexy as hell.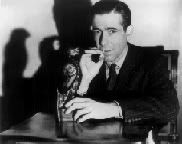 This had some great lines, like the title of this blog, and the one above. Bogart had a hell of a way with delivery - and a hell of a persona. Being such a movie fan, I feel guilty I've not been introduced to him sooner. We've got a lot of time to make up for he and I.
PS:
Men -
all
men - really need to go back to the days where they would wear suits - especially well-cut double breasted ones - no matter what ... with an overcoat ... and hats
at all times
when out in public. Mmm.
More men would get a reasonable amount of trouble from me, me thinks ... nudge, nudge, wink, wink