Sitting here deliciously half blitzed from two vodka-heavy martinis.
I love how I get that teeny bit lit and all of a sudden I feel like Doing Things.
Like organizing my home desk at last. And making my calendar kosher with my day planner, which I just updated yesterday. Never mind that I never look at said planner because I fully believe in the sticky system and/or e-mailing myself reminders, but I will feel more Efficient if I do so.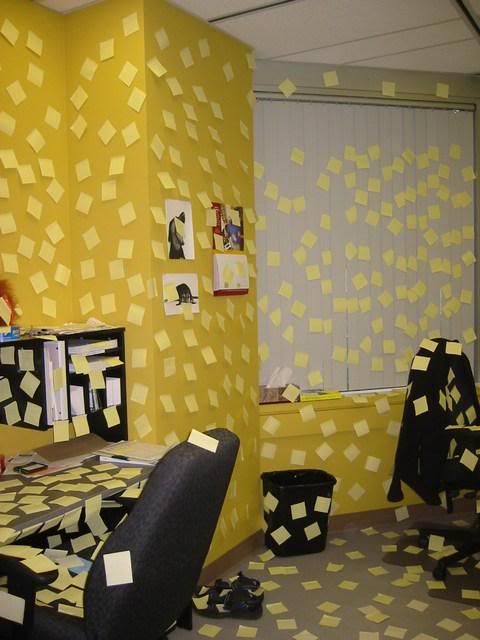 Switching Gears
It is so windy here in Northeastern Pa. tonight.
It was a crazy day of darkness, sunlight, pouring rain, misty rain and wind on and off. Seeing such black black skies against sunlight made me think it was the end of the world or something.
The house was rattling so much before that I cautiously peeked out through the blinds to see if houses were flying about.
Instead I saw something gorgeous: an abandoned umbrella dancing in the wind.
It was like that plastic bag that the creepy hot kid next door in "American Beauty" filmed.
If I felt like putting my galoshes back on, I would have gone out and taken video of it to share.
Instead, use your imagination.
Switching Gears
Sometimes I get so angry I just want to scream.
Or break a pencil, if I used pencils and not solely blue PaperMate pens.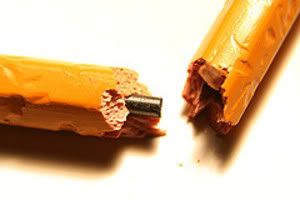 I chalk it up to being Sicilian. Or psycho. I'll go with the former, thank you kindly.
Switching Gears
Sometimes I think I'll never get it together - then I remember that nobody has their shit together. And if they do, they're a God damn liar. That's comforting.
Switching Gears
It's safe to say that I think about food way too much, and exercise way to little for how much I like to eat.
Switching Gears
I hate being an insomniac. The worst part is I just lay in bed waiting for sleep to come, instead of getting up and reading or writing.
OK, now about that calendar project.
It's an Anne Taintor joint.
I shall leave you with April's fitting quip, as I got blonder just last night.