Not true.
My mom
loathes
parades - and "parks and picnics" too.
I follow suit.
- While I love food on the grill, I'm not a fan of eating outside. Too many bugs, too hot, etc.
- I like to hike, but only when it's cool, like in the fall or this time of year, and definitely before the snakes wake up.
- And I certainly do not like parades, for several reasons:
---- They congest traffic.
---- There is just
way
too many people and I'm not one for mobs.
---- You just end up waiting
forever
, especially if you are part of said parade waiting for your moment to march.
However, one parade is just too much fun: St. Patrick's Day Parade.
Parade Weekend starts this Saturday morning in Scranton well before a normal workday starts ... like 6 a.m. I kid you not.
It's so much fun, even with the mobs in the bars and on the streets. It's mayhem, Mardi Gras and Carnival but more fun.
I don't care what your nationality is (mine is mostly Sicilian/Italian BTW), it's the one day that everyone is - or wants to be - Irish.
See exhibit A below: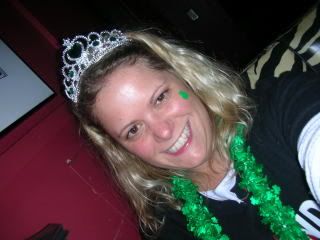 It's just a damn fun day.
On Sunday, it happens again in Wilkes-Barre.
Now, this parade isn't comparable to Scranton's parade day, but you know what?
This is definitely the year that could take W-B to the next level - there's so many more places downtown open, it's refreshing.
Over the past four years, I've seen W-B grow so much, from hundreds of spectators, to thousands. From nothing, to some things open on parade route.
This year is going to be pretty exciting for W-B and if you believe in hair of the dog as they say, make sure to
slainte
both days!