I love
the rainbow array of my stilettos.
(introducing my newest addition: canary!)
I'm sure my back will hate me 20 years (or less) down the line, but damned if my legs don't love me right now.
What is more powerful than a sassy pair of leopard pumps? Or patent black? Or or or?
Nothing, my friend.
N o t h i n g!
I love
that I can totally dress down on production day Tuesdays, since I am chained to my desk until the cows come home. I was so uber comfy today that I had to take a photo of my outfit this morn:
It consisted of:
- Jeans that are getting too big on me (yay!).
- A gray thermal shirt.
- My fabulously soft red cardigan cable-knit sweater.
- My Uggs which I know now I cannot live without, and consider them probably the most worth-it Christmas gift
ever
.
- A fleece leopard-print scarf since it was chilly in the morn.
- And natch, my bookish spectacles.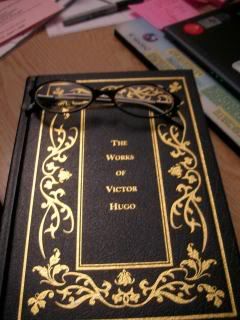 I love
blue PaperMate pens and the pewter pen box I got as a gift from a friend. It's inscribed with a quote from one Ernest Hemingway:
"The writer must write what he has to say. Not speak it."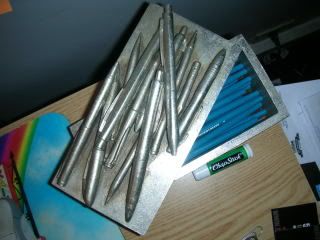 And I especially love
Mint ChapStick. I have one at work, on my desk at home, on my nightstand, in the bathroom and in my purse. It's safe to say, since I am always within at least five feet of the green stick of minty goodness,
"Hello. My name is Nikki and I'm addicted to Mint ChapStick."
And I super, duper love when it's time for bed.
Ciao!